Why Us
No.1 Chit fund company in India
60 Lakh+ satisfied subscribers
Network of 110 branches
18000+
Agents
4100+
Employees
No.1 Chit Fund Company in India
Margadarsi Chit Fund is your trusted partner for financial growth and security. With convenient savings and borrowing options, we help you plan for unforeseen events and ensure stability. With 60+ years of consistent growth, and current turnover of Rs. 10,687 crore, we are India's top chit fund company. Our leadership, ethics, and law-abiding culture maintain our credibility and position at the forefront.
60 Lakh+ satisfied subscribers
For 60+ years, Margadarsi has empowered over 60 lakh customers, building trust and financial success. Our chit schemes have fulfilled dreams of homes, businesses, education and much more. With transparent processes, we create lasting relationships and a sense of community. Join us for a brighter future.
Network of 110 branches
With 37 Branches in Andhra Pradesh, 34 Branches in Telangana, 23 Branches in Karnataka and 16 Branches Tamil Nadu, Margadarsi Chit Funds Pvt. Ltd. is a household name in South India. Our journey of enriching lives continues as we strive to provide innovative solutions and exceptional service for many more years to come.
18000+ Agents
A tight-knit network of 18000+ agents, over the decades, have become an integral part of our organisation. These professionals act as intermediaries between Margadarsi and our participants. Their responsibilities include educating customers about chit fund schemes, assisting them in the enrolment process and providing regular updates.
4100+ Employees
We owe our success to a talented, diverse team of 4100 employees who embody our values. Their dedication has propelled us to remarkable milestones and exceeded our goals. They have been delivering exceptional service, while we invest in their development and celebrate their achievements. Together, we forge a path to a brighter future.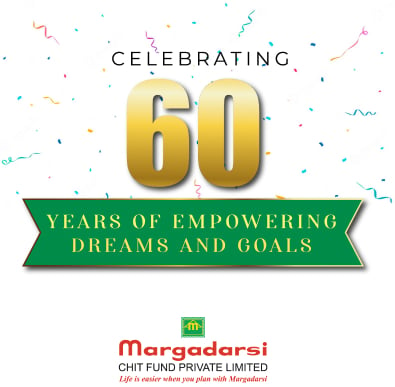 Margadarsi Chit Fund Private Limited
A Tradition of Excellence
History of Chit Funds
A Chit Fund Company is as Good as its Foreman
Why Margadarsi?
Growing Force in Tamil Nadu and Karnataka
How Margadarsi Works
Margadarsi, a Lifelong Friend
Over six decades ago, Margadarsi Chit Fund introduced the people of Andhra Pradesh to a path towards a happier life. At that time, disciplined chit funds were relatively unknown. Margadarsi pioneered the concept in 1962. As time went on, chit funds gained popularity because individuals recognized them as an ideal means of profitable savings and quick access to funds during contingencies. Today, Margadarsi stands as the foremost Chit Fund Company and a household name in south India.
Amidst the emergence of numerous chit fund companies, Margadarsi has maintained its leadership position by upholding unwavering values such as honest performance, professional integrity, exceptional service quality and absolute financial discipline. These enduring principles have solidified Margadarsi's reputation and distinguished it from its counterparts in an ever-changing landscape.

3 Lakh+ Active Customers

108 Branches

4100+ Employees

18000+ Agents
Every day, the diverse activities and interests of the Eenadu-Margadarsi Group, of which Margadarsi Chit Fund is a part, touches the lives of people in some way or the other. The group is behind renowned brands like Priya pickles and confectionary, along with Eenadu publications, that publish the largest circulated Telugu daily, Eenadu. Additionally, the group also includes News Time, a popular English daily, and a host of magazines. The Group has also established a name for itself in the entertainment domain, with its ETV channels in Marathi, Telugu, Kannada, Bengali, Oriya, Rajasthani, Bihari, Gujarati and Urdu. Dolphin Hotels, its venture in the hospitality business, is known for its customer-centric service. The Group has also made a mark in film production and distribution with Ushakiron Movies, in handicrafts with Kalanjali, and in the realm of innovative ventures with Ramoji Film City, a one-stop destination for film making and a unique tourist destination.

3 Lakh+ Active Customers

108 Branches

4100+ Employees

18000+ Agents
Chit Funds are indigenous financial institutions unique to South India. They have stood the test of time, as evidenced by the growth in the number of chit fund companies in South India. Tracing the history of the origin of chit funds reveals that they evolved at a time when banking facilities had not developed, thus filling an important credit gap in the economy. With the growth of banks, chit funds were expected to be doomed to closure. However, contrary to expectations, vast expansions in the chit fund businesses were witnessed over the years, neck to neck with that of the banking system. Today, chit fund companies are recognized as important credit and investment agencies.

3 Lakh+ Active Customers

108 Branches

4100+ Employees

18000+ Agents
'Foreman' means a person who, under the chit agreement, is responsible for the conduct of the chit and includes any other person discharging the duties of the Foreman. It is the personality and conduct of the Foreman, whether individual or institutional, that lends strength to a chit Fund Company. Margadarsi Foremen are known for qualities like promptness, straightforwardness and honesty, building trust and credibility for the company. This ensures prompt payment to subscribers.

3 Lakh+ Active Customers

108 Branches

4100+ Employees

18000+ Agents
The hallmark of Margadarsi's success is its meticulous planning, coupled with hard work and deep commitment to serve its customers in the best possible manner. New schemes are introduced from time to time by the company to meet the financial needs of the customers and fulfill their aspirations. With an employee force of 4100, and 18000+ agents and development officers, efficient and prompt services are available to customers at all times. In line with its commitment to delivering high quality professional and personalized service, Margadarsi started the unique '72-hour response' facility. This facility ensures quick disbursement of money (subject to documentation) and is unique to Margadarsi, currently not being offered by any other chit fund company.
It is this understanding of the needs and requirements of customers that enabled the company to reach out to a huge number of subscribers continuously and consistently. Margadarsi's impeccable track record and its strict professional discipline have earned it tremendous goodwill and respect across the diverse social groups: professionals, industrialists, corporate executives, government employees, teachers, housewives and more. Being the pioneers in the chit fund domain, Margadarsi remains the unrivalled preference for lakhs of people, standing tall as the epitome of reliability and excellence.

3 Lakh+ Active Customers

108 Branches

4100+ Employees

18000+ Agents
Having started operations in Tamil Nadu in 1992, Margadarsi is fast gaining a firm foothold in the state. The company has established 16 branches in Tamil Nadu, which provide unparalleled service quality and adhere to unwavering codes of reliability and transparency. These branches uphold the same exceptional standards that propelled the company to its leadership position in Andhra Pradesh and Telangana. In 2001, Margadarsi started six branches in Karnataka and has grown to a total of 20 branches today.

3 Lakh+ Active Customers

108 Branches

4100+ Employees

18000+ Agents
With its vast experience in the field, Margadarsi has made systems and procedures simple, systematic and foolproof. Subscribers can choose from a wide array of chits, ranging from Rs. 50,000 to Rs. 1,00,00,000, designed to suit a variety of requirements. To become a subscriber, individuals need to fill out an enrolment form, and opt for any of the chit schemes available with monthly instalments ranging from Rs. 1000 to Rs. 2,00,000. Depending upon their preference, one may choose Long Term Chits (50 months duration) for savings purposes and Short Term Chits (25 months duration) for emergency planning. Subscribers are entitled to bid at the auction even if only one instalment (i.e., the first instalment) has been paid. However, depending upon the requirement and competition, one can get the bid in any of the instalments. After being declared as successful bidder in the auction, the subscriber has to submit sureties depending upon future liability. The chit money has to be paid back in remaining easy instalments. The successful bidders earns their profits by repaying the monthly instalments excluding the dividends.

3 Lakh+ Active Customers

108 Branches

4100+ Employees

18000+ Agents
Every individual is driven by hopes and aspirations but may lack the resources to make them come true. Sometimes, there are emergencies, obligations and unforeseen expenditures. All these occasions require money in lump sum. It is on occasions like these that one can turn to Margadarsi for help. Whether it's supporting your child's education, arranging their marriages, building homes, purchasing flats, or securing future investments, Margadarsi has consistently been a reliable and trustworthy companion. The company has been playing a vital role in making life easier for all those who've invested their confidence and hopes in it. This explains why the company has become synonymous with trust and reliability.

3 Lakh+ Active Customers

108 Branches

4100+ Employees

18000+ Agents

Flexibility of Borrowing

Easy Withdrawals

Fair Distribution

Access to Funds

Low Interest Payments
Good Returns
Invest smart - with Margadarsi Enquire today